At Shooting For Success, we're so much more than basketball training.
We are a basketball organization dedicated to teaching athletes the right mechanics, a better understanding of the game, and a set of core values we expect our players to demonstrate on and off the court.
Our team is led and founded by David DJ Jones, known around the world as "The Shot Doctor". Our trainers have all played elite level ball and share a desire to teach, inform, and grow not only better players, but better people.



Our club teams play to win. Our camps produce more skilled athletes in just days. Our private training fixes what's broken and turns good to incredible.
Tell Us About Your Athlete:
upcoming camps, clinics & eventS
July 6 – 10 'Mailee Jones Week' at SFS Camp | Learn from the current Women's National Team Player | Register here .
June 8 – August 14 Summer Camp | Ages 5 -14 | $225 weekly / $60 daily | Lunch and T-shirt included.
Fundamentals Training resumed May 29.
Annual 3v3 Tournament

  postponed due to COVID-19. New date TBA.                                                                                                                          
covid-19 team, clinic, and camp guidelines

We are continually updating gym guidelines for players, coaches, and player-families to do our part in stopping the spread of COVID-19. Our number one priority continues to be the safety and health of our players, coaches, and player-families.  Thank you in advance for your patience and compliance.
If you feel sick, please stay at home.
Take temperature at home before arrival.
Must wash hands when entering the gym.
No spectators. We ask that parents please wait outside for player pick up.
Please bring own hand sanitizer.  Our supply is limited.
Mask optional (for player).
Bring own water bottle.  Fountain will be off limits.  We will have water available for purchase at camp.
We will be serving lunch during camp.  Food handlers will wear masks and gloves. 
Players should maintain social distancing while not on the court and prior to and following practice.  Please have a conversation with your player about what this looks like.
No sharing of personal items. 
shooting for success kicks off middle school girls fundamentals program
A strong understanding of basketball fundamentals is crucial for our girls as they compete today.  Sadly, a lot of girls enter middle school tryouts without such knowledge and experience.  Good basketball fundamentals such as shooting mechanics, passing, anticipating the steal, playing big under the basket on defense and more are key during Middle School basketball for girls (and boys).  These are the basics upon which your player will build as she faces tougher and tougher competition in high school and beyond.  Imagine what she can do if she begins her journey in basketball with solid, strong, and correct basketball fundamentals.  It should not be the exception during these formative years.  It should be the standard.  At Shooting For Success, we are launching a Middle School Girls Fundamentals Training program for girls in the 6th, 7th, and 8th grade. 
Fridays 6:30 PM – 8 PM. Cost is $75/month.
To Register, please email dj@shootingforsuccess.net.
shooting for success starts fundamentals program for beginners and those who need extra work
At Shooting For Success, we don't cut players, we develop them.  We understand that not every player is ready for competitive club basketball.  Yet, that doesn't mean he or she should quit.  That's why Shooting for Success has started a fundamentals training program for beginners, ages 4 – 10 and those who want to put in the work to improve their fundamentals.  We believe in giving all kids the opportunity to enter club ball and middle-school ball using the correct shooting form, and sufficient in dribbling, passing, and other core fundamental skills.  
Fridays 6pm – 7:30PM & Saturdays 11:30 – 12:30 PM. 
To Register, Email Diane dj@shootingforsuccess.net.
SFS featured on kens 5 news "SAN ANTONIO'S SHOT DOCTOR OFFERS LAST CHANCE AT PRO BASKETBALL DREAMS IN CHINA"
"… Thanks to some overseas connections, Jones has an ability to bring local players to china for a chance to play overseas for a shot at an international contract …" Read the full article here. 
Shooting For Success is lucky to have a home gym at its disposal 7 days a week. Coach DJ holds "Open Gym" Saturday and Sundays for SFS enrolled players looking to get in extra time on the court.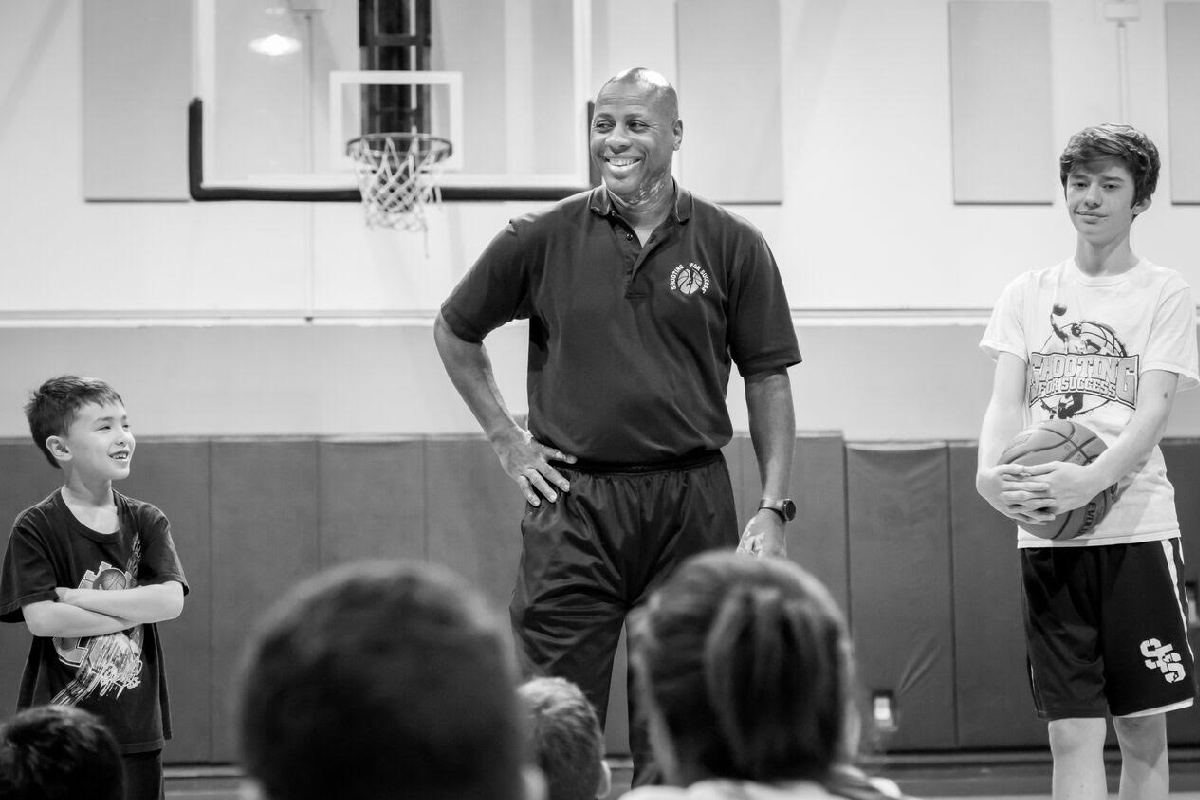 I played professional basketball for over 13 years throughout Europe. I've trained some of the worlds best, and, I'm a dad of a collegiate basketball player.
There's nothing I love more than sharing this lifetime of basketball knowledge and experience with your child.
~ David "DJ" Jones
SFS Founder / Trainer / Coach